Another trend for Spring that was seen on the runways was checks. Now I am a big fan of checks of all sorts. I really love ginghams, but the way the designers styled them gave me pause. Junya Wantanabe has given us this look that would almost work if it wasn't so over the top.
The floral top is best left to a pair of jeans and the skirt to a little cami. Of course this is Style On A Shoestring so we are going to do this on a budget. Now
Anthropologie
shows us this trend a bit more affordable and wearable: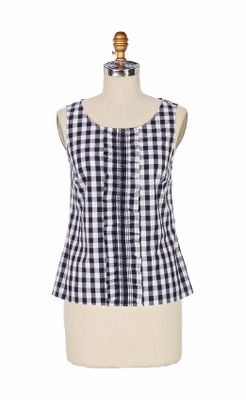 They pair this with a cute pair of brown crop pants, neutral sandals and a skinny belt. Now we can still do better with this blouse from
Wet Seal
:
A total bargain at only $19.50 and it has a self belt.
Now for a look at shoes. I mentioned neutral toned sandals. These Steve Maddens fit the bill and at $49.99 are not too bad for designer shoes:
You can get them at
Cutesy Girl
Also available are these cuties:
Now THESE totally up the sex appeal of any outfit and are $24.99!
On to pants. Yeah, yeah. I have heard that crops are passe and a certain style guru hates them. Well, they were all over the runway and I bet you have a closet full of them. I also saw quite a few pants that were rolled up and it looked very cute as long as the pants were straight leg pants. Once they started rolling pegged or tapered pants all bets were off on whether it was going to be flattering on most figures. So to pair with your checked blouses I suggest cropped denim, twill, khaki or brown pants. They will go with many other things in your closet and you will get years of wear out of them. These from
Delia's
may be just what the fashionista ordered!
The navy are only $9.99 and the putty are $19.99. Buy any 2 and save 25% each. What a deal! So now you have an entire new outfit for under a hundred smackeroos (with money to spare!) Looks like you can now splurge on a nice restaurant for lunch with the girls after all your shopping.