Starting with Fall 09 many designers started showing ankle socks with dressy shoes or oxfords and skirts or dresses.
Rebecca Taylor Fall 09
Verrier Fall 09
Andy & Debb Fall 09
The trend continued this Spring and Forever21 showcased the bobbysox look heavily in their new Forever21 Twist collection.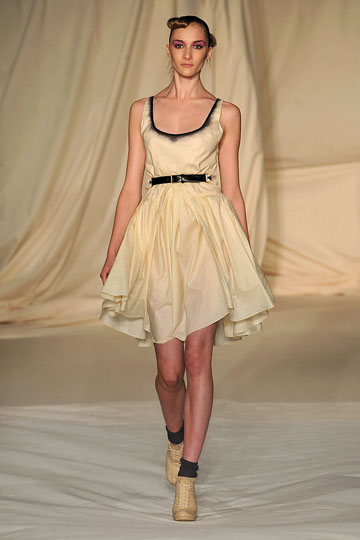 Cynthia Rowley Spring 2010
Forever21 Twist
Now I had resisted slightly at first considering myself way to old to sport such a look, but when I had found that pumpkin sweater at the thrift store I dipped my toes in and tried it. I really loved the vintage vibe it gave off.
You may remember this from Fall. I only had the nerve to wear the socks with shoes and skirt outfit once.
Now though, I have totally succumbed to the charm of socks and shoes. I have worn the combo three times this week!
Nebbie the kitty was in a feisty mood after seeing my shiny red shoes with socks.
I layered a red sweater over my dress as it is still quite chilly out. Another cute pair of red shoes.
This look made me feel like a vintage pin-up model. I wore it to go to the bank and pay bills around town. That chore was a little less painful.
Not once has anyone given me weird looks. In fact I have been complimented on how cute I look.
So while this trend is in style I shall rock it as hard as I can!
Pel