I was surprised to read one day that the average lifespan of bras and panties is 6 months. Wow. talk about built in obsolescence. These are items that we use every day (well, MOST of use do, LOL!) and they are NOT made to last. They are also confusing to size and most of us are not wearing the right size bra and our panties give us the dreaded VPL. Such a horrid dilemma! All I know is that I want comfort, style and and I don't want my panties to creep up my butt. Please? So that leaves me with a collection of different types of intimates that serve different purposes.
Panties-
I have my panties grouped by the ones that I can wear under loose skirts (cute but would leave lines under pants or tight skirts) and ones that are nearly invisible under pants and tight skirts. No, I do not wear thongs. That is a personal preference of mine. I tried them and I just couldn't get used to them and I get too many UTI's to really justify the no VPL issue. My favourite panties for nearly no VPL are from
Victoria's Secret
. I hate that they are so expensive, but love how they feel. No other ones have come close to them for comfort.
3/$30.00 I try to wait for clearance!
I also shop at
Target
. I like boyshorts to sleep in and some times to wear under skirts. The Gillian O'Mally brand is a great bargain and also carries some pretty sexy styles as well!
2pk for $9.00 I have these in pink :)
At
Anthropologie
I can get totally frothy stuff on clearance sometimes. Great to sleep in or for under skirts.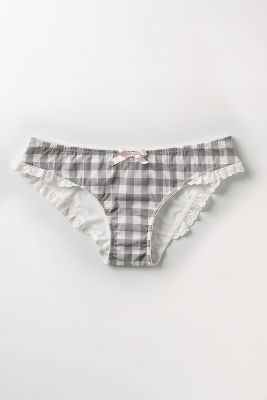 $9.95 on sale (I couldn't resist them and I got the matching bra!)
Bras-
The same with my panties, I have bras that have different uses. You need a flexible bra wardrobe to cover the different items of clothing you wear. I feel that it is never good to go bra-less unless you are in a bathing suit. It is bad for the girls!
Now for my basic all around favourite bra:
Scoopneck demi bra from
Victoria's Secret
. It is very low cut so I can wear all my tops with out it showing at all. It has a convertible racer back that is great for tops that have open cut sleeves. It is also nice and smooth so it leaves no lines under close fitting shirts. It would make a great t-shirt bra.
One sale right now for $21.00!
Strapless bra. This a must if you wear strapless tops or dresses. I got mine from
Target
with a matching garter belt. It is the Gillian O'Mally brand, natch!
This one is so cute and only $13.49
Push-Up Bra. I have a few different types of push-up bras that I have bought at different places. My last WonderBra I bought from
Macy's
on sale. I also bought a couple cute ones at
Kohl's
on their Saturday sales and from
Target
and Ross. The last one I bought was from
Victoria's Secret
and was from their Very Sexy line. It looks good as long as I am standing up. If I lie down it doesn't push them up any more. Not good for the bedroom, if you get my drift, LOL!
Wonderbra $25.99
Soft Cup Bra. I love soft cup bras for sleeping in and for general wear around the house. Super comfy and you can get such cute prints! Again, I shop at
Target
for these mostly. I scour the clearance rack and pick them up for a song! I sometimes can get the matching panties too!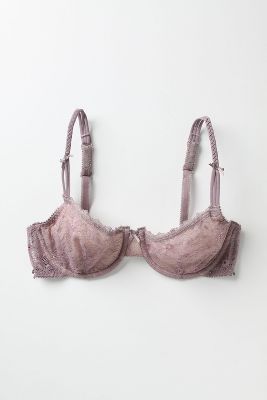 I got this pretty one from
Anthro
for $19.95 and snagged panties to match!
Sports bra. Here you can go to a sports store such as
REI
They sometimes have sports bras on their clearance rack. I bought my last sports bra there along with a pair of performance wicking boyshorts to wear under my hiking clothes.
Target
also has a good line of performance sports bras.
$19.93 on clearance.
There are many other things in my underwear drawer. Garterbelts, slips, tap pants, camis. All fun items and all needed to make my clothes look nice. So do shop around to find deals and do try things on if possible. Take a friend to help you if you can. Here is a link to a bra fitter if you need help to find your size. It really is true that most of us are not wearing the correct bra size. But even with your right bra size in hand, sizes vary by manufacturer (damn them) so you still really need to try them on.
ElectronicZNY Bra Fitter
Well, I am off to look at more lovely bras online. I still just can't get enough!
Pel