I will admit it. I am addicted to shoes. I have so many I have nowhere to put new ones. I promised my husband that until I have gotten rid of some of the old ones no new pairs will make their way into the house and I am a person who keeps their promises. But that doesn't mean I am not lusting after the new shoes and boots that are showing up for Fall. "Buy me, buy me!" they say. But I will resist. I will not cave. I will however show you what I think are the best shoes out there and let you lust after them as well *grin*
First are these simply delicious Vintage inspired shoes from Fossil. I dream about these, I do! A big splurge at $128.00. I can go without food, right?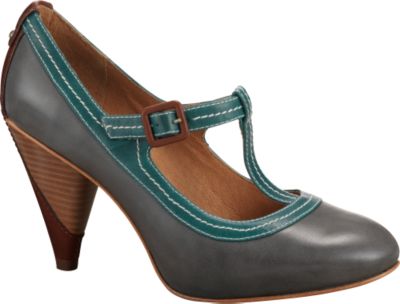 These black booties by Qupid are sooo adorable I squealed when I saw them. Really! Only $22.99
Now who doesn't need purple pumps? I know that I just have to have them! $21.99
Last but not least a totally sweet ruffled ballet flat. I would feel so dainty in these! Only $22.50 at Payless Shoesource.
So now you know what I have been drooling over. Now I really, really need to get some of my old shoes up on ebay. I am sure these gorgeous shoes will not last long and I WANT them!! *SOB*