I have been thinking about this the past couple of days after seeing this ad at
Shopbop
for cropped pants for Fall of all things.
Yes, just what I want is an icy breeze swirling around my exposed ankles!
So what are we willing to put ourselves through to look stylish? I for one I am not some silly Regency maiden wandering around in dampened muslin getting consumption. In Winter and Fall I want clothes to keep me warm. No flimsy tees and cropped pants or sandals. I want cozy sweaters, warm boots and pants that actually cover my legs! On the other extreme is clothing that is painful.
Alexander McQueen showed off 12 inch heels on the runway that looked like raptor claws. They may be art, but there is no way they were comfortable or wearable.
I like pretty shoes. Maybe a bit more than like. However, I am not putting up with blisters or bunions or hammertoes because of tight or ill fitting shoes. No way. I love my feet too much to do that to them.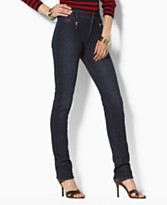 Too tight jeans or tops are other items fraught with danger.
I like jeans as much as the next person. The news I am hearing about the super tight, super skinny jeans is a bit scary though. A lot of women have had paralysis of the nerve in the leg so that after wearing them they can not walk temporarily! Wow, that would scare me half to death if it happened to me. I make sure now that my jeans are not too tight. I am not willing to have that happen.
I have worn tight corsets to the Renaissance faires and I can say that I do not want to deal with that pain in real life.
I have seen pretty, corseted tops and you can get ones that are not tight, really! Breathe, ladies. We need to breathe! So while I might wear a pretty corset like this over a white blouse like it was a vest, no tight lacing for me!
So tell me. Are you willing to suffer for fashion?
Pel